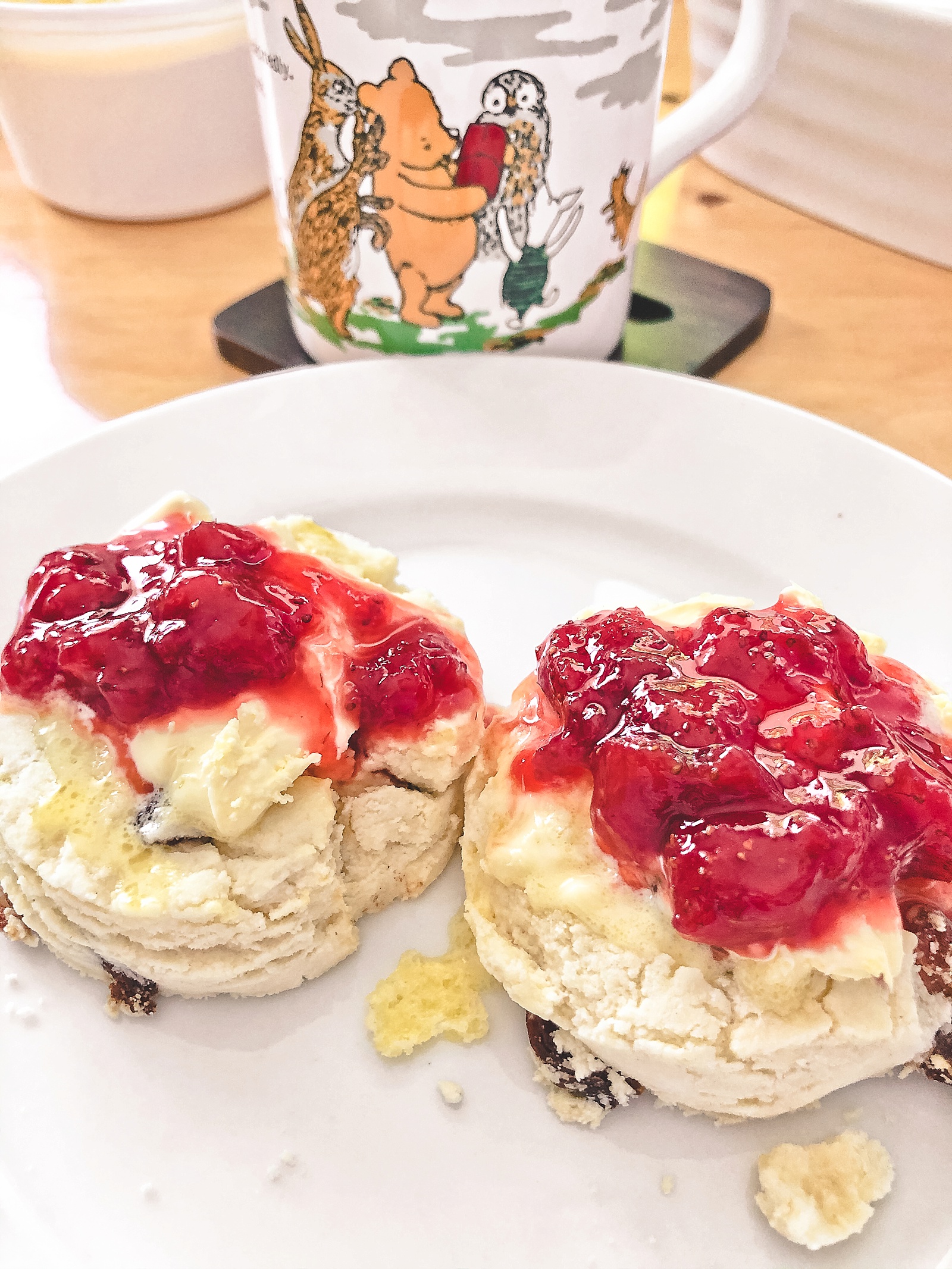 My first attempt at British scones was a sad story. I tried to make my own buttermilk with lemon juice and milk because I couldn't find buttermilk at my local M&S or Tesco Express, I overworked the dough, and I didn't have the proper temperature conversion for a fan oven. Mr. B and I called them scone cookies to try to salvage the disappointment. I swore off trying to make scones again until a couple of months later I saw a simple video recipe by the
Royal Pastry Chefs
on Instagram. It rekindled my confidence. They made it look so easy!
Until I saw that their recipe used weight measurements. I had yet to acquire a kitchen scale or do any baking in grams, so the initial panic of having to relearn things lingered for a few days. Well, reader, thankfully it didn't last long, and my stubbornness pushed me forward. I screwed it up with my typical measuring cups, so I might as well try again with a new perspective!
USING A KITCHEN SCALE
This recipe is why I bought a
kitchen scale
. I have known it's been a recommended baking tool by pastry chefs for years, but I have obstinately stuck to my measuring cups and spoons. After now using a scale, I'm a convert. It is much more straight-forward, and now being in the UK and having to already convert from American measurements to British ones for some recipes, the scale gives a bit more consistency.
There are analog and digital scales available, but when it comes to odd weight measurements, I wanted the black-and-white of a digital read. After hefty research, I learned
Salter scales
are a well-loved British baking favorite because of their precision and design variety. And when it's been a brand since 1760, then you pretty much have to assume it's passed the test of time.
HOW TO MAKE FRUIT SCONES FROM BUCKINGHAM PALACE
[Makes about 12-15 scones]
INGREDIENTS
• 500g of all-purpose (gluten-free) plain flour
• 28g of baking powder
• 94g of unsalted butter
• 86g of white granulated sugar
• 2 eggs
• 140mL of buttermilk (a little less than 2/3 cup)
• 100g of raisins
• 1 additional beaten egg for an egg wash on cut scone dough
BAKING SUPPLIES
ALLERGEN NOTES
Egg, milk. For those with a gluten allergy, I personally made these scones with gluten-free flour because I have Celiac, but this recipe was originally written with non-GF flour by the Royal Pastry Chefs.

DIRECTIONS
1. Preheat oven to 350°F/180°C/160° Fan.

2. Mix the flour, baking powder, butter, and sugar together in a bowl until a crumb is formed.


3. In a separate bowl, whisk two eggs and buttermilk together.


4. Add the liquid mixture to the crumb mixture.

5. Continue to mix the dough until it is combined and thick.

6. Add the raisins, and mix until evenly distributed.


7. Remove the dough from the bowl and gently flatten the dough on a cutting board or kitchen surface using your hands. Cover the dough with plastic wrap/beeswax wrap, and leave the dough to rest for about 30 minutes.


8. Roll out the dough to a thickness of about 1 inch and start to cut your scone dough with a circle cookie/biscuit cutter. Avoid twisting the cutter while piercing the dough if possible as this can affect rising when baking.


9. Let your cut scones rest for another 20 minutes on your baking sheets.

10. Separately, beat one additional egg in a cup. Using your pastry brush, brush egg on the top of the scones.

11. Place scones in the oven and bake for 12 minutes or until golden brown.

12. Allow to slightly cool before serving with clotted cream and strawberry jam.
EXTRA RECIPE TIDBITS
You can make this recipe with or without raisins/dried fruit, but adding anything else starts to go into American scone territory (as you'll learn below)! For your cream tea or scone-eating experience, I highly recommend making your own strawberry jam, and shameless plug, my
Refrigerator Jam recipe
is one of my long-time favorites.
Scones are best served when warm. If eating later, place your scones in the microwave until they have completely warmed through. Like any bread basket, wrap the scones in a cloth napkin to preserve their heat if needed.
AMERICAN SCONES VS. BRITISH SCONES
Without getting into the full transatlantic debate of which scones are "better," there are very significant recipe differences between the American scone and the British scone (also commonly pronounced skawn as in rhyming with John). From the amount of butter to shape to flavor additives, these pastries essentially speak two different languages.
For shape, the American scone is a large triangular wedge whereas the British one is always round and more petite. For baking ingredients, the American scone has more butter and sugar along with various fruit additions like pumpkin, orange, cranberry, chocolate, coffee, and so forth. And don't forget the sweet glaze topping! The British scone is literally either plain or fruit (aka with raisins or other dried berries like currants or cherries) with either a powdered sugar dusting or egg wash topping.

The British scone is meant to be eaten with condiments such as clotted cream and jam, so its base ingredients are quieter whereas the American scone tends to be eaten without any extras, so the scone packs its own flavors.
Now if you want to integrate in a truly important local debate, learn the eternal hot topic: the order of how one puts clotted cream on said scones. Clotted cream first and then jam aka the Devon way? Or jam first and then clotted cream aka the Cornish way? And you better be prepared to have an opinion.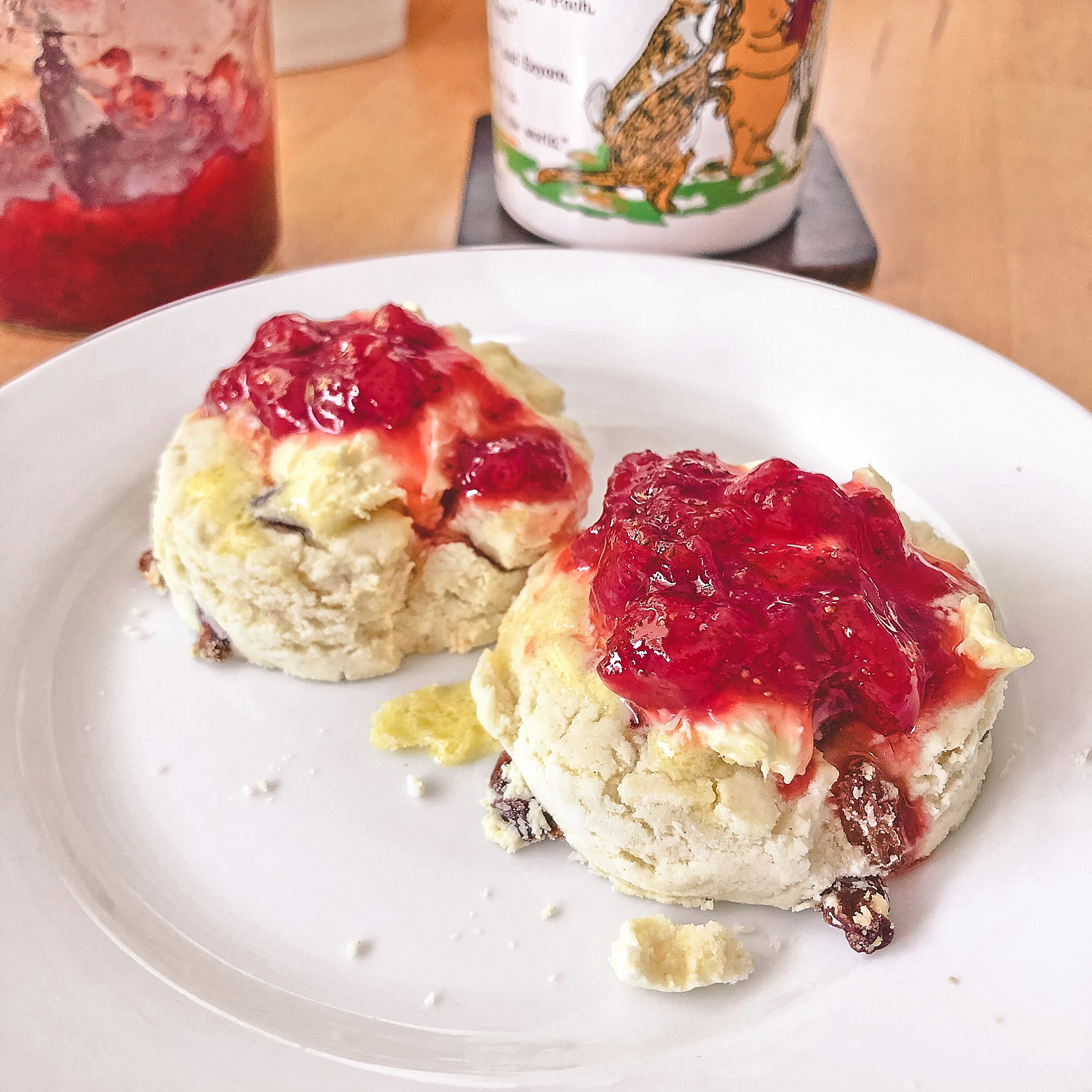 And of course, give your cat a dab of clotted cream so she feels included in the scones and tea experience.
This recipe is adapted from the Royal Family's official Instagram.
Some of the above product links are affiliate-linked and purchasing through these links helps support this website at no cost to you! You can find my full affiliate disclosure policy here.