I saw dried oranges everywhere. The moment Christmas busted on the retail scene in November, they were everywhere at garden centers, Etsy, holiday adverts... and I was loving it. It matched my own natural Christmas aesthetic, and I wondered why I didn't see more of this high level of "dried orange love" in my hometown in Virginia. (Colonial Williamsburg is always full of this stuff as you'll read in the history section below!)

I actually tumbled into this DIY project. Two weeks before, Mr. B and I had purchased a set of different style orange slice ornaments from a local maker for gift decorating, but then the order was canceled due to the maker potentially having COVID and sadly was not well enough to create the ornaments. It was too late to order from another Etsy shop, and I was not ready to concede defeat in my first foray with dried oranges.

Away I immediately went into Google and discovered drying oranges really isn't difficult. Operation Handmade Christmas Details was still on!
How to Dry Oranges for Christmas Decorations
[Makes about 5-7 slices per orange]


PROJECT MATERIALS
• Large navel oranges
• Oven
DIRECTIONS
1. Preheat oven to the very low temperature of 250°F/120°C/100°C with fan. A low temperature will help prevent burning the fruit and allow for more consistent results.
2. Turn each whole orange onto its side and cut into 1/2 inch thick slices. By turning, you will get that classic "orange slice" cross section look. If your oranges have any seeds, remove them before baking.
3. Gently pat orange slices with a tea towel or paper towel to absorb excess juice.
4. Place oranges on a metal roasting rack on top of a baking tray. The two-layer rack and tray setup will allow the oven air to circulate underneath the oranges and prevent sticking.
5. Put slices into the oven for about three hours until the rinds have hardened and the fruit flesh has dried out. Flip your oranges every 30 minutes for a more even bake. The thinner the orange slice, the quicker they will dry out. Slices may still be slightly sticky when they are done.
6. Even though the slices are ready for immediate decorating after baking, it is recommended that you allow your slices to air dry for a couple of days. This will make them more everlasting as they continue to dry out any leftover moisture.
STORAGE NOTES
Dried orange slices can last for years if properly dried and stored in an airtight container. Since moisture causes mold, there should be an absence of moisture if the oranges have been completely dehydrated. Based off of some articles I read, dried slices can last for 2 years or even 7 years. Mileage may vary depending on how you store or use them!
OTHER DECORATING IDEAS
• Limes, grapefruits, blood oranges, lemons, other citrus fruit, and quince can be dried in this same way and make for beautiful Christmas decor color and size variety!
• For a truly natural Christmas display, add whole cloves, cinnamon sticks, bay leaves, whole star anise, and rosemary sprigs to your orange slices.
• Use
waxed cotton thread
and a thick heavy-duty needle to make your dried orange slices into ornaments or gift packaging details.
Wooden beads
, tassels, and knotted ribbon can add a lovely touch, too.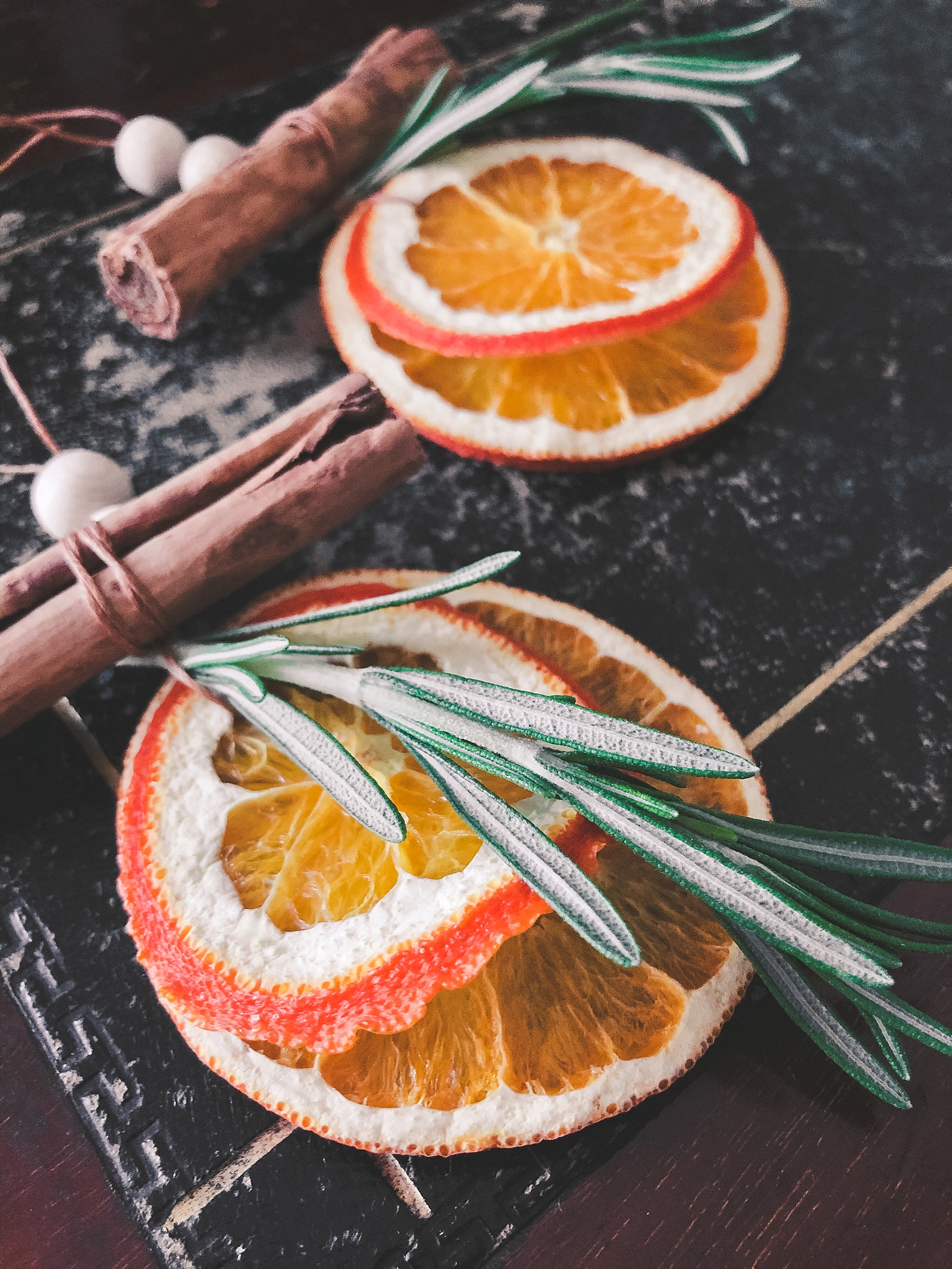 HISTORY OF CHRISTMAS ORANGES & CALL TO GIVE TO YOUR LOCAL FOOD BANK
Great Britain is the birthplace of a lot of American holiday traditions, and Christmas is no exception. Thanks to Queen Victoria's immense social influence and her husband Prince Albert's German heritage, that's why we have had a Christmas tree in the living room since the 1840s. And with the Christmas tree, dried fruit has also been a part of Victorian holiday decorating.
Back when I lived in Williamsburg, Virginia,
Colonial Williamsburg
's annual handmade wreaths were my most favorite part about the local winter holidays. Every year, the floral designers would create gorgeous themed wreaths with oyster shells, pineapples, antlers, paper scrolls, pheasant feathers, pears, and more. One year, I even spotted a series of "Star Wars meets 1700s" wreaths that were so cleverly made within the CW aesthetic that you would have never known it was Star Wars unless you knew the subtle movie references. Though CW only started doing these decorative displays since the 1940s, their inspiration comes from those days of yore when only what you had is what you decorated with.
At one time in history, oranges (like pineapples) were considered a luxury and an ultimate gift since they were imported from more faraway hot climates. (In the 16th century, early Spanish explorers -- likely Ponce de Leon -- planted the first orange tree in what is now known as Florida, and well, we all know how that went. A glass of OJ, anyone?) During the Great Depression in America, families obviously didn't have much, so receiving an orange in one's stocking became a rare wonderful treat.
So, since it's no longer the same expense due to just a few tiny (big) improvements in trade over the centuries, I think bringing back the mainstream idea of oranges as gifts is lovely. Food insecurity and malnutrition are ever more relevant these days in an exhausting pandemic. Perhaps consider donating some clementines (or also known as "easy peelers" in the UK) to your local food bank this holiday?
To find your local British food bank for help or to give,
The Trussell Trust
is your community search go-to. (Or if you need to share a helpful resource with a new American,
Feeding America
is a good starting point.)
Some of the above product links are affiliate-linked and purchasing through these links helps support this website at no cost to you! You can find my full affiliate disclosure policy here.