As someone whose entire career for the last 12 years has been the wedding industry and as someone who has also been married once before, I have gotta say that dang, England, getting married here is insanely more complicated than it is back home. I'm not even talking about the visa process for a foreign national like myself. I'm strictly speaking about the logistics of saying I Do in ole Blighty.

Mr. B and I were supposed to have our "make it legal" wedding ceremony on February 9, 2021 (with our more meaningful wedding day with no more than 22 of our loved ones in May and a Virginia wedding picnic for the American side in calmer pandemic times), but due to the current lockdown, it was canceled. There is still hope though as our ceremony is rescheduled for March with another backup date in April.

As I full-heartedly believe everything happens in its perfect timing, it's still a bit of downer, especially knowing that it would have been beyond easier and far more affordable to tie the knot in Virginia. In a non-COVID world, that's exactly what would have happened. Mr. B could have entered the States as a visitor (no special visa even needed!), we could have gotten hitched at the courthouse, and then had separate memorable celebrations with loved ones in both UK and U.S. as most international couples are wont to do.

While I'm dreamily smitten with the idea that I get to marry my best friend in the land of Jane Austen, my more realistic, practical side is grumpy that we weren't even able to consider the option of a U.S. ceremony because of the current pandemic-related travel ban against British citizens.

Alas, there are things out of our control, I love our love story even with all the pivots, so instead, I'm going to share exactly how getting married is different here in England compared to Virginia because the what the huh moments are real.
Difference #1: The Marriage License
In my hometown of Virginia Beach, Virginia, acquiring a marriage license is easy. You go to the courthouse, pay a small fee, and sign some paperwork. Every city has different requirements and validity terms, but a Virginia license is valid for 60 days. Showing an official divorce decree is not even required. You can go get hitched on the same day at the same courthouse if you want -- no appointments or witnesses needed!

In England, the equivalent of a marriage license is "giving notice." This appointment must be made at least 28 days before your scheduled wedding ceremony date at a Register Office -- a dedicated local government office that handles birth, death, and civil partnership/marriage records.

At the giving notice appointment, you tell the local government when and where you're getting married, give your identification documents, answer a few questions about your spouse-to-be, and then after 28 or 70 days, you are approved to get married for up to one year.

(Because I entered the country on a government-issued fiancée visa and already went through a vetting process, it was only 28 days for our approval to marry. 70 days is for those who require more extensive background checks or immigration reviews.)

Your giving notice in England is venue specific, so no changing venues after you do this, or you have to give notice all over again. During our appointment, I asked about COVID couples having to cancel or reschedule to a new venue, and our local county said they have been able to sometimes waive the fee if venue had to be switched. It won't be our situation, but because giving notice is a ridiculously expensive process, it hurt my heart for the couples whose weddings get postponed or canceled.

It also bears mentioning that having religious ceremonies have a few different shades of "giving notice" rules to follow depending on if it's a Church of England ceremony or another house of worship. At least when it comes to weddings, there is a very clear separation of church and state in the UK which is an interesting and different cultural aspect than what I've experienced in America.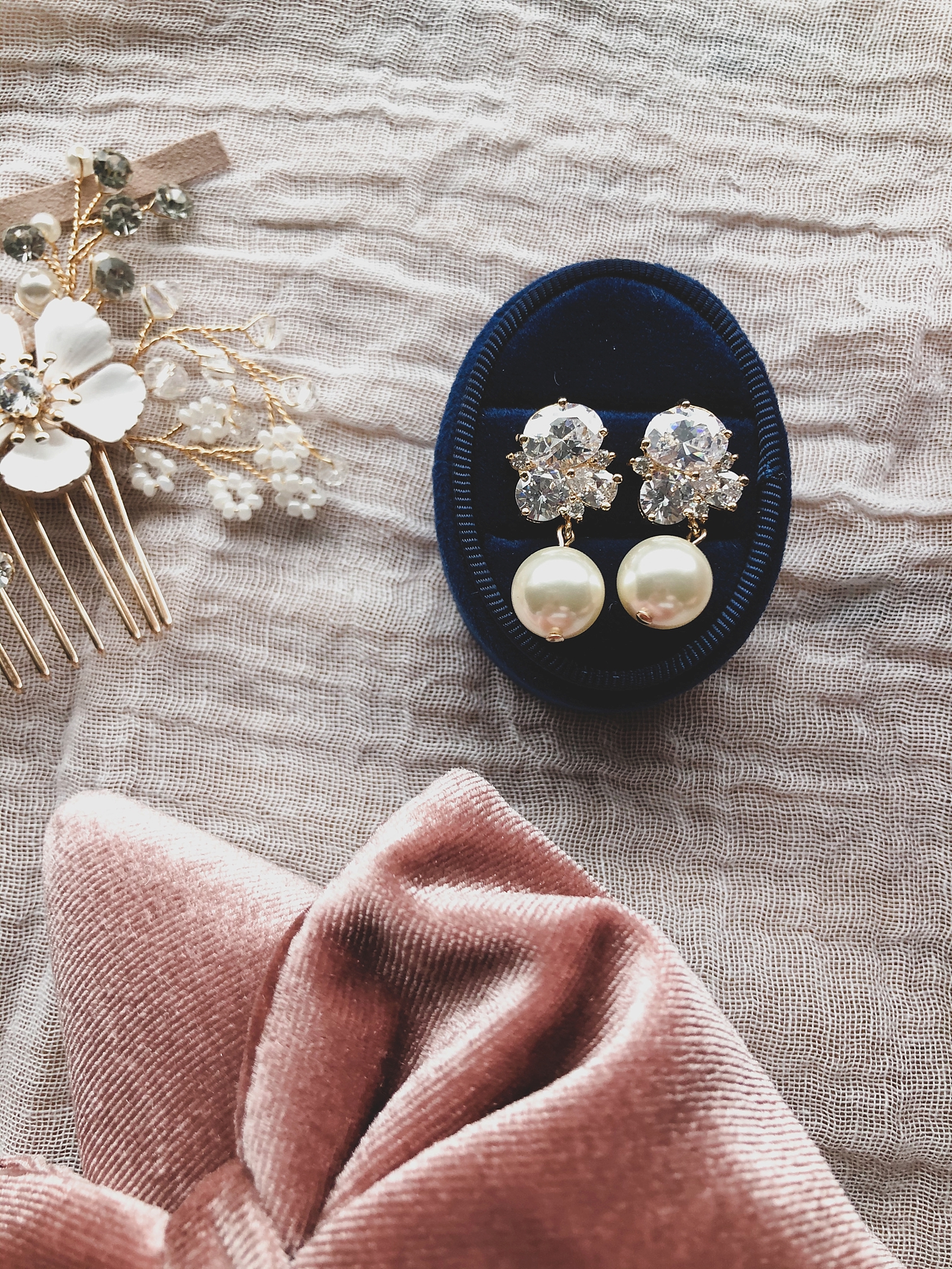 Difference #2: Your Officiant
In Virginia Beach, the officiant of your wedding ceremony can be a qualified minister/pastor, any judge, or a person appointed by the court. That last one means that your friend, relative, neighbor, anyone can officiate your wedding with the court's permission. In some of Virginia's cities, all it takes is a little paperwork, a small filing fee, and a visit to the courthouse to be hailed as a "one-time civil celebrant." Your officiant then receives temporary court authorization to perform a single ceremony for a specific couple and then after the ceremony, they send off the signed marriage certificate to be reported to the courts.

Hold all of that with English weddings. In England, you have to have a government official (or registrar) from the register office to make your marriage legal in the UK. You can have a celebrant (aka officiant) or someone more personal to you leading the ceremony, but the registrar still needs to be present or you need to have a separate legal ceremony before your planned wedding day.
Traditional British weddings also set aside time at the end of the ceremony for the couple to sign the official marriage register book in front of all of their wedding guests (aka the "witnesses") with the registrar. It always reminded me of Jewish weddings where signing the ketubah is also done amongst loved ones. Different document meanings entirely, but both traditions are photographed and expected to be in post-wedding photo albums nonetheless. This, of course, doesn't happen if the couple has their legal ceremony prior to their big day.


Difference #3: Where You Can Marry
In Virginia, you literally can get married anywhere. Literally. Anywhere.
In England, nope. Just nope. There are restrictions. You have to marry in a Register Office (e.g., the equivalent of an American courthouse but without the judges and speeding ticket hearings), a venue that is licensed and approved by the local council authority, a religious house of worship, or a military chapel.
Now let's expand on the licensed venue idea... for a venue to be approved for a legal marriage, the premises have to be open to the public and must have/be a permanently built structure. No beach weddings, no private backyards, and no boats here, Coastal Virginia friends. And if it's a new public venue, ceremonies can still potentially happen, but the owner or trustee of the building has to apply for approval to host licensed civil wedding ceremonies there first before any rings can be exchanged.
Difference #4: How Much Everything Costs
A marriage license in Virginia Beach is $30 (about £20). If you want a courthouse wedding, it would be $50 in cash for the marriage commissioner to legalize your marriage. No appointment even needed.

If you wanted to have a licensed Virginia officiant conduct your wedding at your preferred location, their fees can be anywhere from $0 to $1,000. Depending on if it's a personal friend to an in-demand local favorite, pricing varies, of course. To receive certified copies of your Virginia marriage license and certificate (which are together on the same document) after the wedding, you would pay $2.50 per copy.
Now in West Sussex, England, it is £35 per person to give notice and then an additional £50 just to look at notarized foreign divorce papers. So to give notice, it was £120 for us (about $165). This does not even include anything related to ceremony services. It's literally just to notify and receive permission to marry.

In West Sussex, the cost for a registrar to attend and legalize your marriage off-site at your preferred venue can range from £466-£693. And if you wish, this is in addition to a separately hired independent celebrant who would conduct the same ceremony in a more personalized format. This British professional's pricing can be anywhere from £300-£900 based off of personal research.
If you choose to have a ceremony at one of the register office's official ceremony rooms where the registrar doesn't have to travel off-site, these costs still greatly range from £271-£992 depending on location in the county and which day you decide to tie the knot.

All Register Office ceremony fees include two official statutory marriage certificates, but if you need additional copies, it would be £11 each (about $15).
Now if you're like me and Mr. B and have a more meaningful wedding planned on another day with an independent celebrant, we wanted the least expensive "make it legal" option that was available. So for £74, we could get the most bare bones, basic statutory registration of marriage ceremony that can only happen on the second Tuesday of every month at the primary office in East Sussex with two witnesses required. (Due to COVID, there were no available ceremonies in West Sussex when we were booking, so we had to schedule with the next county over.)
In the end, we will have paid close to £800 (about $1,100) just to legally and formally call ourselves husband and wife to the UK government and our loved ones... which doesn't even include the actual wedding day details like venues, catering, attire, rings, photography, florals, et cetera. That stuff all is pretty similar to an American wedding and isn't quite as interesting as this particular topic.


Final, More Succinct Thoughts
So, England, I repeat, dang, why is so much more complicated to get married here?!



Our Wedding Details in the Photos
Some of the above product links are affiliate-linked and purchasing through these links helps support this website at no cost to you! You can find my full affiliate disclosure policy here.