Years ago, I learned about the Valais Blacknose because of a BBC video clip about a Scottish farmer who brought the breed to the UK from Switzerland. They're one of the most expensive breeds because, well, just look at them! But because of this, I never thought I'd ever get to see one in person let alone interact with them!

That all changed when I went to Google and started searching for things to do in Northamptonshire while Mr. B and I were helping friends with kitty sitting. Lo and behold, a 15 minutes' drive would bestow upon a cute overload dream made reality at The Sunshine Farm.


WHO ARE THE VALAIS BLACKNOSE?
Literally called "the cutest sheep in the world," the Valais Blacknose are unmistakably one-of-a-kind. "Are they really real?!" is a common question when one sees a photo of them. Their twisty horns, curly wool, teddy bear faces, puppy dog personalities, little black knee patches/boots, and sweet temperaments make it a no brainer why these are well-loved amongst animal lovers everywhere. This breed was first brought to the UK in 2015 according to the
Valais Blacknose Society
and continues to grow in popularity... so much in popularity that the top notch sheep tend to come at a high price.

If Mr. B and I can find a house with some land in a couple of years, we are 100% going to try to get a mini-flock of more affordable "perfect in our eyes" Valais Blacknose as pets. That's how much I love this breed! It's about time we put Mr. B's agricultural background and saving baby lamb experiences into good use!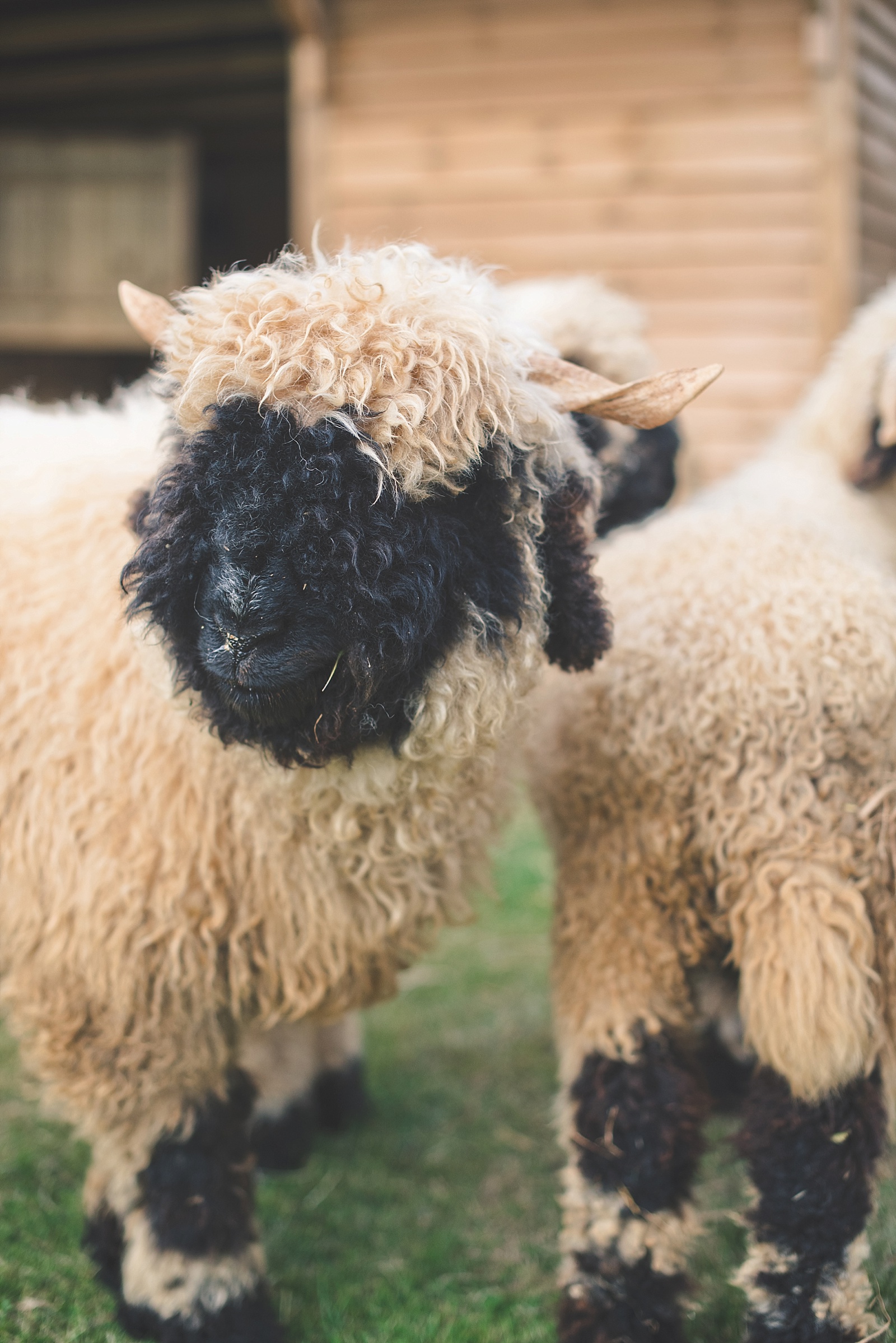 VISITING THE VALAIS BLACKNOSE CREW AT SUNSHINE FARM

Once we arrived, we were greeted by farm staffer, Molly, who encouraged my very much grown-up enthusiasm every moment of our visit. My American show of joyful emotion definitely was not quelled here. We went directly to the Valais Blacknoses' personal paddock and immediately were introduced to the boys: Herbert, Horatio, Hercules, and Hector. (I came to have an extra soft spot for Herbert because he's the only one without the iconic black knee patches which in the sheep world plummeted his breeding value... which makes him absolutely perfect in my eyes. I think Herbie knows I was smitten with him because he was the most affectionate with me!)

These sheep are still young chaps and are already living their best woolly life with their own personal B&B kitted out with toys, bottomless hayrack, and more. Basically these sheep are spoiled, and they distinctly know it.

To prep for the walk, Molly herded Herbert and Hercules into the side pen to clip on their personalized walking harnesses which only supported my theory that the Valais Blacknose are just giant puppy dogs disguised in sheep bodies. (This theory is later confirmed.)
Just like any large animal who has preferences, walking a sheep is a laughter-filled session best meant for those who don't take things too seriously. If you think it's going to be one simple la-dee-da down the lane, you might want to loosen up your collar. Shiny objects in the form of clovers and tasty plants will distract your fluffy buddy every step of the way. Herbert gave it a valiant effort, but towards the end, he gave into temptation and insisted on a pit stop every two seconds.

Until the bucket came out. The bucket was magical. The bucket was power. The bucket had unlimited snackies to bribe giant Herberts into movement. It confirmed the puppy dog theory as his little black boots made their big steppy steps towards the bucket (or rather, into the bucket).
CUDDLING WITH THE VALAIS BLACKNOSE
After the walk around the farm which was about 20-30 minutes, we had some cuddle time with all four fluffy boys and gave a few extra grainy snacks to each. Even after the treats were long gone, the sheep still stuck around, still wanted to be pet, and still wanted to be doted on. Being on the receiving end of their affection was healing. It filled this tired and anxious soul with so much light. 2021 has been a flippin' long decade of a year, but one dose of this micro-flock was just what I needed.
Molly was lovely to answer all of my incessant questions about the sheep, the farm, and everything about how they help adults with learning disabilities on weekdays and open up to the public on weekends. When you meet good humans who love animals as much as you do, they make an impression, and I knew I wanted to take the time to properly write up my experience.
The hospitality didn't end there as once we left the beautiful Valais Blacknose boys to their own devices, we made our way around to say hi to the rest of the farm animal residents and had a thorough hand washing in the restrooms as tea and cake awaited us in the garden patio area. When we're back in the Northampton area again, Mr. B already knows that wasn't our last visit. His American wife very much loves these sheep.
THE SCOOP ON THE SUNSHINE FARM

AVAILABLE TIMES FOR A VALAIS BLACKNOSE SHEEP WALK
Mondays-Saturdays from 4:30pm-6:30pm and Sundays from 1:30pm-5:00pm
PRICING
It is £25.00 for a sheep walker's ticket that includes cuddles with the Valais Blacknose boys, access to see the other animals, and tea and scones/cake afterwards. (Gluten-free and vegan options are available with advance notice.) Alternatively, it is £10.00 for a spectator ticket for any adults who may not want to walk the sheep, just want a cuddle, or have been summoned by their spouses to take photos of them walking the cuteness (obviously).
HOW TO BOOK A SHEEP CUDDLE & WALKING SESSION
You need to book in advance, and this can be done by phone at 07720 273055, direct message on their Facebook page, or by email: manager@sunshinefarm.uk. Payment is made via bank transfer.
LEARN MORE ABOUT THE SUNSHINE FARM
The staff have future plans to have a website, but at this time, you can learn more about the farm and see updates from
their Facebook page
.
HOW TO FIND THE SUNSHINE FARM

Since the boutique petting farm and Valais Blacknose cuddle experience are newly opened as of earlier this year, most GPS systems/sat navs haven't quite picked up the Sunshine Farm name and location just yet. Type in the below postcode, and once on Holcot Road, be on the lookout for the sunset-colored "The Sunshine Farm" signs by the roadside. Free parking is available in their gravel-paved car park.

Holcot Road, Brixworth, NN6 9BN